Andrew Dodd, United Kingdom, entered the comic book market in the 1990's with several news stand titles. The bubble burst and Andrew changed to become caricaturist and to delve into multimedia. He takes part in many different publications and lives in South Yorkshire.
Website: www.andydoddartoons.co.uk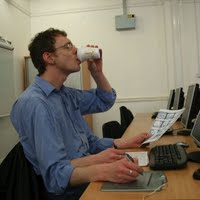 Andrew has been a freelance artist for more than 20 years, and has produced a wide range of work including comic strips, caricatures, storyboards, animation, portraits, paintings and concept art.
He has worked on commissions for clients in many markets, using a variety of tools and techniques. These clients have included KP NUTS, SOUTH YORKSHIRE POLICE, SCANIA COACH COMPANY, SOUTH YORKSHIRE COUNTY COUNCIL, HUDDERSFIELD UNIVERSITY, BIG MAGS Ltd, SWEET FA PRESS Ltd and COMMUNICATIONS INNOVATIONS Ltd.
He is currently working with TIMEBOMB COMICS, ARTSIDE MEDIA and BANG! BANG! COMICS on various projects, and has recently been published in ACCENT UK's "Predators" anthology, HESKE's "2012: Final Prayer" anthology and GIOVANNI SPINELLA's "Atrox" anthology. In addition, he works as colourist on PAUL BIRCH's comic strip "Carter's Column" and staff concept artist for SCI-FI ALMANAC.
Andrew is studying MULTIMEDIA at the UNIVERSITY OF HUDDERSFIELD.